Keynote Speakers

Prof. Loon Ching Tang
National University of Singapore, Singapore
Title: "Reliability Engineering: From Practice to Theory"
Abstract: In this presentation, we first go through some of the actual industrial projects related to reliability that we have been involved with over the past 30 years to highlight the gaps between practice and theory in reliability engineering. This is followed by elucidating the development of various approaches in bridging these gaps. In particular, we discuss the gaps between research and applications in accelerated testing and degradation modeling, and listed some of the associated results over the years. We also point out some of the directions for future research in response to some of the problems faced by in degradation and repairable systems.
Biodata: Loon Ching TANG is a Professor at the Department of Industrial & Systems Engineering (ISE) in National University of Singapore (NUS).
LC Tang obtained his PhD in the field of operations research from Cornell University in 1992 under the NUS Overseas Scholarship. He has published widely in many leading international journals in the field of IEOM. He was presented the IIE Transactions 2010 Best Application Paper Award and the prestigious Ralph A. Evans/P.K. McElroy Awards for the best paper presented at 2011 Reliability and Maintainability Symposium. The latter award is widely recognized as a hallmark of excellence in the field of reliability and maintenance engineering the first time, and was the first time it went to authors affiliated to an Asian University in its 58-year history. He has been named 2014 IEOM Outstanding Educator by the IEOM Forum. He is an elected Fellow of the International Society of Engineering Asset Management.
LC Tang is the editor of Quality and Reliability Engineering International and has been on the editorial review board of the Journal of Quality Technology, the flagship journal of American Society for Quality, since 2006, among others. He is the main author of the book: Six Sigma: Advanced Tools for Black Belts and Master Black Belts (which won the inaugural Masing Book Prize by International Academy of Quality); and a co-author of Markov-Modulated Processes and Semiregenerative phenomena. He is one of the founding members of Global Ports Research Alliance, IIE Asian Network and the steering committee of Logistics and Maritime Systems Conference Series; and has served as the General Chair of these conference series.
Besides being active in the forefront of research in Industrial Engineering and Operations Management, LC Tang has also been engaged as consultant/trainer by many government agencies and MNCs in their enterprise transformation initiatives. To-date, he has trained and mentored more than 60 Master Black Belts and provided training to more than 3000 analysts, engineers and managers, from Singapore, Malaysia, Thailand, Israel, China, USA, Indonesia, India and the Philippines in the areas of Lean Six Sigma, Design for Six Sigma, Engineering Asset Management, Operations Research and Reliability Engineering.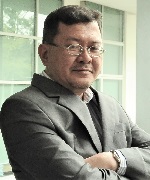 Prof. Abdul Talib Bon
Universiti Tun Hussein Onn Malaysia, Malaysia
Title: "Teaching Factory Based Learning approach in Innovation on TVET"
Abstract: Malaysia national education leading up to the Industrial Revolution 4.0 requires a new approach in teaching and learning at the primary to tertiary level. The Teaching Factory-Based Learning approach is a new approach and no country implements it as a whole. This Teaching Factory-Based Learning method is a new teaching and learning approach where students will go through the teaching and learning process in the Teaching Factory built in institutions of higher learning based on existing curriculum and syllabus requirements that lead to industry needs. This study will look at how this Teaching Factory-Based Learning can be implemented by developing a new framework. This framework is formed through the adaptation of the syllabus and practical equipment available in the Teaching Factory. Similarly, this research method also takes into account the teaching methods carried out by instructors from the industry who carry out manufacturing activities in the Teaching Factory to be in line with the needs of the program itself. Develop a framework for Teaching Factory-Based Learning or known as Teaching Factory Based Learning (TFBL) in a two-year program at university and two years in industry (2U2I) at public university level and subsequently can be implemented in all universities, polytechnics, community colleges, skill training centres, vocational colleges and all TVET centres.
Biodata: Dr. Abdul Talib Bon is Professor of Technology Management in Department of Production and Operations Management, Faculty of Technology Management and Business at the Universiti Tun Hussein Onn Malaysia. He has a PhD in Computer Science, which he obtained from the Universite de La Rochelle, France in the year 2008. His doctoral thesis was on topic Process Quality Improvement on Beltline Moulding Manufacturing. He studied Business Administration major in Quality Management at the master's level in the Universiti Kebangsaan Malaysia for which he was awarded the MBA in the year 1998. He's bachelor degree and diploma in Mechanical Engineering which his obtained from the Universiti Teknologi Malaysia. He received his postgraduate certificate in Mechatronics and Robotics from Carlisle, United Kingdom in 1997. He is Director of Teaching Factory and Manager of Centre for Technology (Furniture Innovation Technology) from 1 September 2016 and Head of Program Bachelor of Technology Management (Furniture Design and Manufacturing) with Honours from 2014 until 2017. Before this he was the Deputy Dean (Research and Development) at the Faculty of Technology Management and Business in the Universiti Tun Hussein Onn Malaysia from 2008 until December 2011. Dr. Abdul Talib Bon has had over 30 year experience of teaching in higher learning education. A major part of his teaching experience involves teaching mechanical engineering students in polytechnics. However, from the year 1999, he was given the opportunity to be jointed in the Institut Teknologi Tun Hussein Onn (ITTHO), Universiti Teknologi Malaysia as a lecturer in Mechanical Engineering Department. In this institute, he teaches engineering management and quality control at the under-graduate level. Dr. Abdul Talib Bon has multidisciplinary research interests that encompass industrial engineering, quality management and production and operation management. His completed 17 research grant projects as project leader include applications of forecasting in industries. His current research project is looking into developing process quality improvement (PQI) in manufacturing industries. He has supervised more than 90 undergraduate and postgraduate research projects. He has served as a reviewer for a number of engineering management and computer science conferences and journals as part of his expertise sharing initiatives. He had published more than 300 International Proceedings and International Journals and 8 books. He is also Fellow and President of Industrial Engineering and Operation Management Society (IEOMS, Malaysia), Professional Technologist of Malaysia Board of Technologists (MBOT), Council member of Management Science and Operation Research Society of Malaysia (MSORSM), member Management (AMIM).

Prof. Cees de Bont
Loughborough University, UK
(Dean of School of Design)
Title: "Re-inventing Design: How Design Evolved and Gained New Significance"
Abstract: Over the years the design profession has progressed from analogue to digital. Currently design manifestations often consist of tangible and intangible elements. This has changed the design profession and design education in profound ways. Another major change to the design profession is the increase in taking on board of projects with social and societal relevance by many design practitioners and design academics. Projects are nowadays about topics related to social inclusion, homelessness, etc. Another evolution in our field is the way we engage with stakeholders. Co-creation has become increasingly popular and we continue to develop our design research methods to better understand byers and users of products and services. Cees de Bont will give an overview of the main developments in the design discipline in the last 15 years and will showcase some successful projects. He will also illustrate how many of the developments in design were already present in the works by Victor Papanek in the 1960s and 1970's. What was unforeseen in those days, however, was the development of the Internet. This has been the biggest technological revolution in our lifetime. It not only makes it possible to have instant access to enormous amounts of information, it also provides us with possibilities of collaboration across different geographies and provides new ways to interact with stakeholders. In the pandemic we have begun to realise the importance of the Internet and software companies are upgrading their offering. Many organisations have come to realise that they need to improve their online presence and service delivery. This is a unique situation for interaction designers, Ux designers and service designers.
Biodata: Professor de Bont is currently the dean of School of Design, Loughborough University. Before that, he was a dean in Delft and in Hong Kong and he worked at Philips Royal Electronics. His research covers design education, consumer behaviour, innovation adoption, design methods and networked innovation. He has published in many international journals, including Design Studies, Design Issues, the Journal of Product Innovation Management, the International Journal of Cultural and Creative Industries, She Ji: The Journal of Design, Economics, and Innovation and the Journal of Design, Business and Society.
Speakers in 2022 to be announced soon......