Keynote Speakers

Prof. Dr. Voratas Kachitvichyanukul
Asian Institute of Technology, Thailand

Biodata: Dr. Voratas is a Distinguish Adjunct Professor in Industrial and Manufacturing Engineering, School of Engineering and Technology, Asian Institute of Technology in Thailand. He has extensive experiences of over 30 years in simulation modeling and analysis of manufacturing systems.

His industrial experiences include full time technical positions in FORTUNE 500 Companies such as Compaq Computer Corporation and Motorola Incorporated in the U.S.A. He had also worked as consultant for SEMATECH, USA, in the capacity of technical coordinator of the future factory program for microelectronic industry in early 1990's. Prior to taking position in industry, he held teaching position at The University of Iowa, USA.

He came back to Thailand in 1996 and later joined AIT in 1998. Besides his academic activities, he has also been serving in various advisor capacities to companies and government agencies. Some of his services to the professional societies are listed below:

Board Member
* Asia Pacific Industrial Engineering and Management Society
* International Federation of Logistics and SCM Systems
* Asia Pacific Division of the International Foundation for Production Research
Editorial Board member
* International Journal of Applied Decision Sciences, Indersciences.
* International Journal of Management Science and Engineering Management (UK)
* Journal of Advances in Management Research, (India)
* Journal of Advanced Engineering, (Taiwan)
* International Journal of Reliability and Quality Performance (India)
* The International Journal of Logistics and SCM Systems (Japan)
Editor
* Regional Editor, Industrial Engineering and Management Systems.
* Regional Editor, International Journal of Logistic and SCM Systems (Japan)
* Asia-Pacific Editor, International Journal of Simulation and Process Modeling, Indersciences.

His teaching and research interests include evolutionary computational techniques, planning and scheduling, simulation, enterprise resource planning, supply chain modeling, high performance computing and applied operations research with special emphasis on industrial systems. He can be reached at email address <voratas@ait.ac.th>.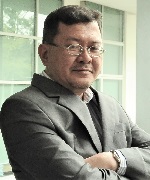 Prof. Dr. Abdul Talib Bon
Universiti Tun Hussein Onn Malaysia, Malaysia

Biodata: Dr. Abdul Talib Bon is Professor of Technology Management in Department of Production and Operations Management, Faculty of Technology Management and Business at the Universiti Tun Hussein Onn Malaysia. He has a PhD in Computer Science, which he obtained from the Universite de La Rochelle, France in the year 2008. His doctoral thesis was on topic Process Quality Improvement on Beltline Moulding Manufacturing. He studied Business Administration major in Quality Management at the master's level in the Universiti Kebangsaan Malaysia for which he was awarded the MBA in the year 1998. He's bachelor degree and diploma in Mechanical Engineering which his obtained from the Universiti Teknologi Malaysia. He received his postgraduate certificate in Mechatronics and Robotics from Carlisle, United Kingdom in 1997. He is Director of Teaching Factory and Manager of Centre for Technology (Furniture Innovation Technology) from 1 September 2016 and Head of Program Bachelor of Technology Management (Furniture Design and Manufacturing) with Honours from 2014 until 2017. Before this he was the Deputy Dean (Research and Development) at the Faculty of Technology Management and Business in the Universiti Tun Hussein Onn Malaysia from 2008 until December 2011. Dr. Abdul Talib Bon has had over 30 year experience of teaching in higher learning education. A major part of his teaching experience involves teaching mechanical engineering students in polytechnics. However, from the year 1999, he was given the opportunity to be jointed in the Institut Teknologi Tun Hussein Onn (ITTHO), Universiti Teknologi Malaysia as a lecturer in Mechanical Engineering Department. In this institute, he teaches engineering management and quality control at the under-graduate level. Dr. Abdul Talib Bon has multidisciplinary research interests that encompass industrial engineering, quality management and production and operation management. His completed 17 research grant projects as project leader include applications of forecasting in industries. His current research project is looking into developing process quality improvement (PQI) in manufacturing industries. He has supervised more than 90 undergraduate and postgraduate research projects. He has served as a reviewer for a number of engineering management and computer science conferences and journals as part of his expertise sharing initiatives. He had published more than 300 International Proceedings and International Journals and 8 books. He is also Fellow and President of Industrial Engineering and Operation Management Society (IEOMS, Malaysia), Professional Technologist of Malaysia Board of Technologists (MBOT), Council member of Management Science and Operation Research Society of Malaysia (MSORSM), member of International Association of Engineers (IAENG), member of Institute of Industrial Engineer (IIE), USA, member of International Institute of Forecasters (IIF), member of Technological Association of Malaysia (TAM) and associate member of Malaysian Institute of Management (AMIM).